Opening keynote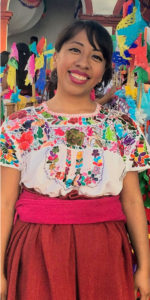 Weaving the Word
Janet Chávez Santiago
Indigenous language activist


The weft is a thread that is woven among the warp's yarns; these are our paper and pencil in the creation of a rug. Together, warp and weft are the bridge that unites the threads with our past and our present, and we weave the patterns of Mitla's friezes as a form of reading, or of interpreting, and of writing our ancestors, but also as a way to recount our dreams and our experiences. We weave in Zapotec. When we complete a rug, we share it with the world, and although the weave is in Zapotec, it can be interpreted in English, in Spanish, in Mixtec, or in Chatino.


Digital media can be seen as a warp on which the speakers of indigenous languages have an opportunity to weave their word and to share it within their own community and beyond. Although in our times digital media and social networks are a practical part of our daily lives and of our interactions with the world, we as speakers of indigenous languages must truly appropriate these spaces, to weave our word well, in order to liberate ourselves from the a denial of the present.


Biography


Janet Chávez Santiago was born in Teotitlán del Valle in Oaxaca, Mexico and comes from a family of master textile weavers and Zapotec speakers. From a young age Janet has been involved in traditional textile production, including tapestries and natural dyes.


Janet earned her bachelors degree in Language Education at the Universidad Regional del Sureste in the city of Oaxaca.  In 2009 she began conducting research on the Zapotec Language as it is spoken in Teotitlán del Valle, with the objective of designing curricula for teaching this variant of Zapotec.


From August 2011 to January 2017 Janet was the director of education at the Biblioteca de Investigación Juan de Córdova in the city of Oaxaca.  Part of her work at the library has been in collaboration with Dr. Brook Danielle Lillehaugen (2012 to the present) to develop the Teotitlán del Valle Zapotec online talking dictionary, a tool for both speakers and students of the language and an important means for the documentation of the language.


---
Closing keynote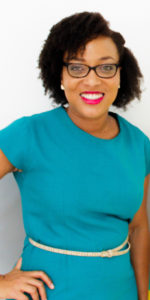 Digital Experimentation, Courageous Citizenship and Caribbean Futurism
Schuyler Esprit
Assistant Professor of English.  Specialist in Caribbean literature and cultural studies.


The violence and trauma of climate change have arrived. The Caribbean region is the unfortunate recipient of the impacts of climate change and, much like its inheritance of plantation slavery and colonialism, it is left with the infrastructural, social and cultural pillage of imperial and neocolonial imposition. My talk will consider whether and how the humanities, and digital humanities in particular, can produce the ideal intersection between planetary responsibility, community accountability and sustainable living.


In this talk I discuss Create Caribbean Research Institute's digital humanities praxis through the example of the environmental sustainability project, Carisealand. Through the exploration and discussion of theories, tools, methodologies and praxis of digital humanities applied to the project, I position Caribbean afrofuturism in the context of contemporary Caribbean digital environments and the lived experience of Caribbean people in the aftermath of climate change.


I apply discourses of afrofuturism to imagine an alternate Caribbean future represented in the redesign, digital imagination and representation of selected Caribbean communities. By offering models for rethinking, visualizing and rebuilding physical spaces, I hope to raise questions and offer insights about the power of digital humanities for social and environmental justice in the contemporary and future Caribbean. The goal is to also offer the model as a template for developing other mapping projects that can propose an alternate future for the Global South.


Biography


Schuyler Esprit is a scholar of Caribbean literature and cultural studies. She holds a PhD in English literature from The University of Maryland – College Park and has both taught and held professional positions at a number of universities throughout the United States.


In 2014, she founded the Create Caribbean Research Institute at Dominica State College, the first academic center for digital humanities in the English-speaking Caribbean. This Institute supports students and academics to use digital technologies for research, teaching and learning in areas relevant to the development of the Caribbean, especially its culture, history and heritage. The main objective of the Institute is to identify and successfully complete projects that apply technological innovation in social and economic development. As Director of Create Caribbean, Dr. Esprit serves as the curator of a series of public digital research projects focused on preserving Caribbean heritage and culture.